Nursing
Quality Long-Term Nursing Care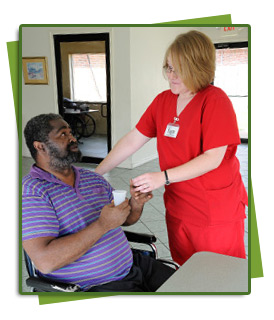 Preserving Quality of Life
Protecting Dignity
Encouraging Independence
Confidence
Individualized nursing care and medical service is delivered around the clock by RNs, LPNs, Certified Medication Aides, Certified Nursing Assistants. Licensed Therapy Staff conduct Rehabilitative services as ordered by your physician.

Keli Smith, RN, Director of Nursing, offers over 12 years of nursing experience…10 years' experience in the Hospice field and 2 years' experience in the Long-Term Care field.

Two medical doctors direct the medical care offered by our trained nursing staff. They confer with staff regularly to suggest ways to improve Quality of Care for our residents.

Compassion
Our trained nursing staff will assist you in any area of daily living where you may need a hand. Your requests will be met with caring, understanding, and respect.

The Difference
Sandra Brown operates the day-to-day business. She cares about each resident, gets to know the family members, and manages over 90 employees daily.

Exceptional Experience
Our Supervisory Staff have over 200 years combined experience in the long-term care setting!

Continuity of Care
Long-term employees are paired with newcomers for initial training. Staff members are assigned to the same residents daily for consistent delivery of quality loving care.

Consistent Growth
Our growth over the years is positive proof of a job well done!

Regular Updates to Premises
Our community is consistently experiencing reorganizing, decorating, and updating to exceed safety requirements while providing a home-like atmosphere for our "family".

Professional Staff:
Director of Nursing:
Keli Smith, RN

Asst Director of Nursing:
Susan Swift, LPN

Office Manager:
Lorene Shoultz
MDS:
Joanna Vandusen